E-Statements

Go paperless
Reduce waste while enjoying quicker, more flexible access to your account information. Plus, gain peace of mind: E-Statements are more secure than regular mail. Enroll now by logging into Online Banking.
Why choose E-Statements?
Convenient – your statements can be viewed while logged into online banking, no need for a separate login
View statements sooner – no mail delays
Access your statement history
Secure – information will not be intercepted or lost in the mail
Simple:

Click on "E-Statements" from the menu
Select the account you want to view
Select what you want to view and then choose a date range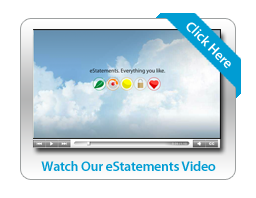 E-Statements – convenient for you, great for the environment!
ENROLL NOW INSIDE ONLINE BANKING ACCOUNT ACCESS!
If you already have a Hometown Bank Online Banking account, simply log in from your computer.  Then:
Click "My Preferences" in the upper right corner
Select "eStatement Enrollment" and click "Edit"
Choose which accounts to enroll and confirm your e-mail address
Click "Electronic Statement Disclosure" to review; write down the confirmation code from the bottom of the disclosure
Click on the box to acknowledge consent of the disclosure
Key in your confirmation code and click "Accept"
If you do not have a Hometown Bank Online Bank account, click here: